F.A.Q.
Affiliate program
25% on all sales for the lifetime of the customer! Your referrals users generate 25% commision for you on every single purchase, make sure that all your traffic to SkinMagz page have ID affiliate included.
Affiliate ID
Affiliate ID is unique url string which helps us to recognize your referrals. It consists of acc parameter and ID string like: ?acc=abcdefghijklmn. Once a refferal lands to SkinMagz it generates a cookie with appropriate affiliate ID. To asure that your refferals last lifetime, we also save affiliate ID to our DB during first refferal's purchase, so refferal stays with the same affiliate for all further purchases.
A qualifying referral
You are paid 25% of net revenue generated from your qualifying referral s. A qualifying referral which entitles you to a commission is defined as a person who has been directed to the Program's site(s) through your links and who makes a purchase on the Program's site(s) within 30 days of the referral. You will continue to be paid 25% of all net revenue generated by that referral for as long as the person remains a customer of the Program's site(s). Net revenue is defined as gross revenue less applicable taxes, chargebacks, and refunds.
Affiliate: Request a payment
Payment can be done only if your balance exceeds 100$. We do not issue any payment below 100$.
---
SkinMagz help section
How do I read my magazines?
Just go to SkinMagz.com, and log in to your account. Then go to My Library to access all your purchased magazines. When you find the one you want to read, just click on the cover image to start reading. Magazines purchased and delivered through SkinMagz.com are available only online.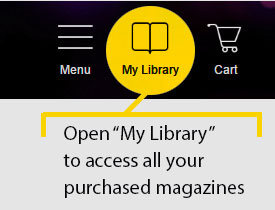 Can I read my magazines on my Mac and PC?
Yes at SkinMagz.com, you can read your magazines on any device: PC, Mac, iPad, iPhone, Android and more. Android users may download ANDROID APP in our Android help section.
Can I view magazines offline?
Yes, you can view magazines offline in SkinMagz Android APP. iOS users (iPad, iPhone) may view offline magazines by saving magazine to home screen.
When do I get my next issue?
This depends on the magazine's publishing schedule. Generally, a monthly magazine will be available one month from the last release date. SkinMagz.com offers both back issues and current issues. Back issues are always available. If you feel you have missed an issue, please contact customer service at cs@skingmagz.com for assistance.
Subscriptions
Upon purchasing a subscription, the latest issue of the title, which you have subscribed to, will immediately appear in your library. Upcoming Issues will appear in your library as they are published, the frequency of which depends on the publisher. After your subscription is fulfilled, SkinMagz will NOT automatically renew the subscription and charge your credit card; to renew the subscription you need to place it in you shopping cart and make a purchase..
How can I request a refund?
Please contact customer service, at cs@skinmagz.com, to request a refund. We will gladly refund the unused portion of your subscription however we will not refund single copy purchases. Once the issue has been viewed we consider it is accessed and therefore not subject to refund unless there are technical issues with accessing the issues, in which case we will seek to resolve those before issuing a refund.
How does the search feature work in Skinmagz?
You can search for a specific magazine title within your library or search the entire newsstand. You can even search for your favorite model's name or topic. Happy hunting!
WE DO NOT SELL NOR DELIVER HARD COPIES.